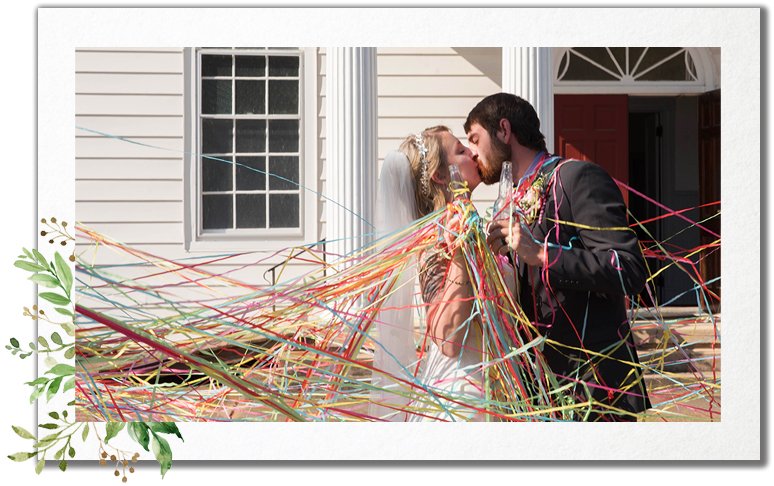 Photo by Lindsey Harris of Dimples and Cheeks Photography
Kara and Dalton postponed their big celebration and opted for a romantic tiny wedding.
Burleson's Big Day Events helped them make their small celebration a memorable event.
Find local wedding vendors
Search by address, city, or zip code
6 Wedding Professionals Thinking Outside the Box
The Covid-19 pandemic has hit the wedding industry hard. Weddings have been postponed or cancelled and there is great uncertainty about when life will return to "normal" and we can get back to business. But there hasn't been any sitting around for these hard-working folks! Here are a few stories about what our vendors have been up to during the pandemic.
Ducard Vineyards is proud to announce the release of their new "Thank You HEROES" wine that pays tribute to the many incredible people who are serving the community during this crisis.
Purchasers of this wine can honor their own personal hero. The wine is a 2019 Rosé, in limited quantity, with a special label designed to allow customers to write the name of their hero right on the label. DuCard is donating the proceeds from this program to local non-profits.
Who are Shannon and Francesca? Two former Ducard staff members who are now front line nurses.
Scott Titmus from All About the Music provided the music for a live-streamed wedding. The couple was married at Maymont in Richmond and broadcast the event to family and friends. 
 Marty Van Santvoord of Beggars Banquet Rentals pitched in to help her daughter's restaurant (The Lightwell in Orange, Virginia) with carry out and delivery. Her collection of mason jars came in particularly handy when cocktails-to-go became allowed! 
 Valley Mills Farm is now offering Micro-Wedding and Elopement packages! They take care of everything; a plated dinner, cake, bridal bouquet and photographer. There is plenty of open space at the farm—it's a great way to still have your special day with a smaller guest list—and Valley Mills Farm does all the work!
Poplar Hill Wedding and Events Venue has been working on renovations to their pavilion. It will have restrooms and a full catering kitchen. They have also been working on the guest house, called The Bagley House. This home is 5,200+ sq ft with a fully equipped kitchen, 7 bedrooms, 3.5 baths, dining room, parlor and groom suit. The groom suite will be equipped with a big screen TV, pool table and bar.
The Watering Tin started making cocktail toppers during the shut down. These fun and creative toppers add a special personalized note to beverages. They are available as an add on to the Watering Tin's services, or through their Etsy store. 
My Virginia Wedding provides listings for local wedding vendors so that they can connect with brides, whether they are local or coming to Virginia for a destination wedding. We are different from Wedding Wire or The Knot because we focus only on the Commonwealth of Virginia and strive to provide a true geographic search so that vendors near the search locality come up first.
In addition to the wedding vendor listings, we provide real weddings to provide inspiration, a wedding blog with tips on every aspect of the wedding planning process, a wedding marketplace for free buying and selling of wedding related items, and many planning tools.
If you are a wedding professional, consider listing with My Virginia Wedding. We exist to provide brides with their dream wedding, from down to earth, to out of this world. We will actively work with you to let brides know about your services through social media, newsletters, and internet marketing. Your success is our success, and a bride's beautiful wedding. We have listing plans for everyone.