Picturesque villages and mountains, exotic islands, crystal-clear waters, dramatic scenery, and ultra-romantic paradise are just a few words that describe the most sought after honeymoon destinations by couples documented by our partners at Honeymoon Islands.
Founder & luxury travel expert of Honeymoon Islands, Teresa Belcher, says that the future for honeymoon travel is inspired by couples desire to:
1. Check off their Bucket List…it's unique and not your parents' honeymoon.
2. Combine relaxation, exotic culture, adventure, beach (action backed adventure)
3. Have bragging rights for a far away, unique experience their friends/family have not experienced
4. Indulge and experience food and wine
5. Travel where celebrities (influencers) travel/honeymoon.
Here are (10) luxury destinations selected by Honeymoon Islands that are sure to create the ultimate luxury romantic destination for you! And if you need assistance planning your luxurious getaway, contact our friends at Honeymoon Islands, and let them know that you read this blog post!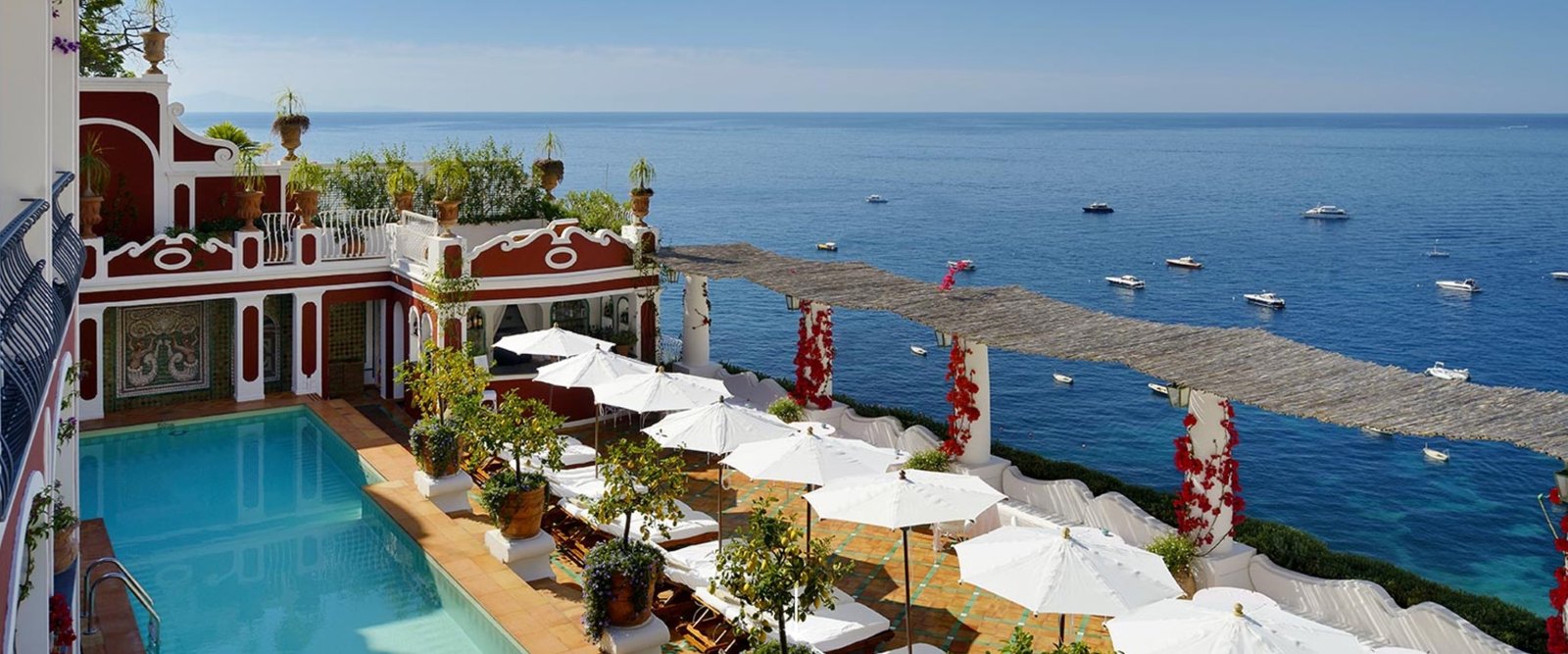 Picturesque Italian villages rest on steep, rocky hillsides that plunge into the Bay of Salerno, deemed "the bluest view in the world." This is Italy's magnificent Amalfi Coast, a stretch of precipitous seaside cliffs from Sorrento to Salerno that affords some of the most gorgeous (and famous) vistas to be seen.
Each town on the Amalfi Coast possesses its own unique charm. Positano is the most distinguished destination, as it's centrally located and often featured in movies and TV shows. It's made up of cascading white steps and boutique art galleries, shops, and restaurants. Then there's the village of Ravello, which is home to gorgeous hiking, art, and scenic gardens. It's a popular day trip destination for visitors, but it quiets down a lot at night. In the heart of the region, the city of Amalfi is filled with local history and makes a great base for trips to the nearby Isle of Capri. And in Sorrento, you'll find the start of a stunning 43-mile coastal road that ends at the coastal city of Salerno. Whether you'd like to leisurely acquaint yourself with one seaside village or explore all the pretty sights to be seen, no matter where you go, your Amalfi Coast honeymoon will be spectacular from start to finish.
There are many reasons the Amalfi Coast continues to be at the top of honeymooners' bucket list. It's hard to picture more classically romantic a scene than Positano's steep village streets, Moorish architecture, azure water and colorful loungers and umbrellas lining the dark sandy beaches. Glamour comes easy, especially at the five-star Le Sirenuse Positano, where the formula for a sexy, sophisticated getaway is tried and true.
Is there a more classic exotic island honeymoon than Fiji? It's hard to imagine something better than hopping between five-star resorts on the South Pacific's 300-plus islands, filled with white sand, palm trees, mountains and blue lagoons. For a dose of heaven on earth, visit Laucala, a private-island destination blending tropical rainforests and volcanos with deserted beaches, sustainable locally grown cuisine and activities ranging from diving and golf to horseback riding and game fishing.
Drink Kava: Once used as part of a spiritual ceremony, this tea-like beverage brewed from the ground roots of a plant in the pepper family is now a mainstay at every social gathering. It's tradition to clap once before you drink the Kava and three times after you're finished.
Known for its friendly people, lush foliage (many of which is found nowhere else in the world) and rich sea life, Fiji is the ideal destination for couples seeking castaway tranquility, an exotic culture, unspoiled beaches and dreamy thatched-roof bures ("boo-rays," a word that means both bungalow and sanctuary).
French Polynesia (Bora Bora & the Brando)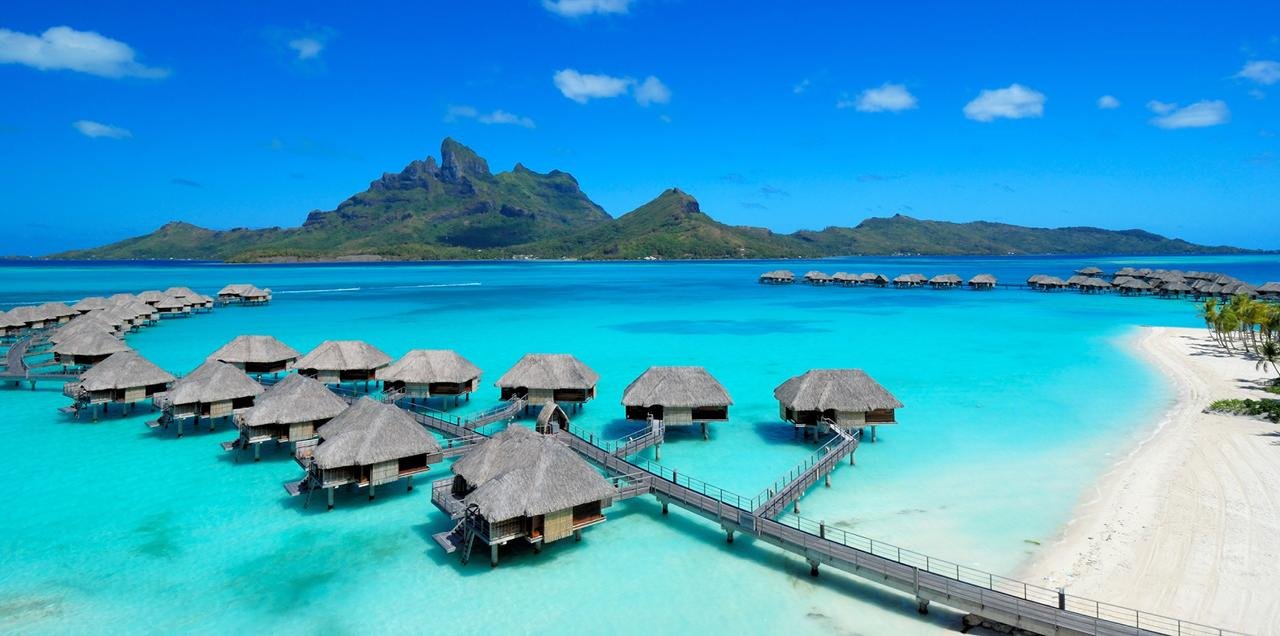 It's the stuff honeymoon fantasies are made of: crystal-clear waters, picturesque mountains and a coral reef swirling with colorful fish. No wonder it was recently voted one of the best islands in the world by US News and World Report. High mountains and dramatic scenery set the stage for this ultra-romantic paradise honeymoon destination. Highlights of this honeymoon include hiking Mount Pahia, scuba diving, Teavanui Pass, Marotetini Royal Marae, and the beautiful lagoon. Bora Bora is known as the Pearl of the Pacific, and there are many amazing hotels and resorts to choose from to make your stay comfortable and luxurious.
Simply put, Bora Bora embodies the perfect and most idyllic honeymoon destination. This is a place to come for bright blue lagoons, charming bungalow accommodations, relaxing sandy beaches, and brightly colored hibiscus flowers. Located in French Polynesia in the South Pacific islands, Bora Bora has been described as the most beautiful island in the world. Enhance your stay by chartering a helicopter to take you around towering Mount Otemanu, then touch-down on a neighboring island for a tour of a black pearl or vanilla bean farm.
Wrapped by majestic views, luxurious Four Seasons Resort Bora Bora is surrounded by sand-fringed islets on an outer coral reef that enclose a turquoise lagoon. Honeymoons made easy, romantic, and unforgettable with romantic breakfasts served in your bungalow or villa, which are delivered by canoe! You can also take a sunset cruise, book a private photo shoot, or plan a spa treatment in the private Kahaia spa suite. You'll enjoy a traditional Polynesian dinner, with lovely scenery in every direction, as you dine on your ocean-side terrace or private bungalow.
The Brando, an island once owned by the late Marlon Brando, arrivals – by private seaplane – are befittingly Hollywood. Pippa Middleton honeymooned here, spending her time paddle boarding with her beau and sipping champagne in the forest canopy bar. With designer chairs ringing the private plunge pools and a vegan menu (optional) in the main restaurant, it's aimed at trend-conscious types – as well as wellness fanatics judging by the giant nest spa set high in the treetops where "sacred queen's baths" are the specialty.
The Brando is a unique luxury resort on French Polynesia's breathtakingly beautiful private island of Tetiaroa – an atoll composed of a dozen small islands surrounding a sparkling lagoon 30 miles northeast of Tahiti. The Brando offers carefree luxury in the midst of pristine nature. With access to the island by private plane, the resort features 35 villas on white-sand beaches frequented by sea turtles, manta rays and exotic birds. The resort was designed to reflect Polynesian lifestyles and culture.
Hear Maldives and you instantly think honeymoon. The tropical South Asian nation is made up of 26 coral atolls in the Indian Ocean, which means unlimited beaches, turquoise waters for miles, extensive reefs and plenty of fresh fish and seafood. You're pretty secluded at whichever of the luxurious resorts you choose—such as COMO Maalifushi and Hurawalhi Island Resort —so expect a vacation filled with intimate meals, spa treatments, underwater adventures and just plain relaxation.
Maldives beaches, most of them untouched by human feet are a getaway unlike any beach destination. Imagine laying on the soft white sands with your partner, taking a dip in the azure colored waters while completely alone on an entire island. The intimate setting that the country provides to couples makes a Maldives honeymoon different from any other.
Without the hustle-bustle of distracting tourists, here you can truly enjoy not just the flawless beauty of nature but also each other's undisturbed company especially on a romantic honeymoon. There are quite a few things to do in Maldives; whether it is an exciting water-sport or a couple's massage at an exotic spa. Have a look and see if you are tempted to indulge.

Do you and your partner share an intense curiosity about the world? If so, a simple beach holiday won't do. Think about exploring somewhere exotic like Morocco. Travel back to a slower time of aromatic mint tea in cool courtyards and sun-drenched bazaars overflowing with handmade jewelry and colorful tagines during a Morocco luxury journey. With a history stretching back nearly 10,000 years, Morocco has been crisscrossed by Roman legions, Berber caravans and Muslim scholars. The country's great cities – Marrakech, Tangier, Fez and Rabat – offer a delicate balance of ancient traditions and modern-day conveniences. You can stay like royalty at the Amanjena. It's a whole new side of romance.
Situated in the spectacular Atlas Mountains in Morocco, the award-winning Kasbah Tamadot was bought by Sir Richard Branson during one of his famous ballooning expeditions. Each of the 28 rooms and suites has been individually decorated to reflect the beautiful architecture of the building and features antiques from all over the world.
During this special trip through Southern Morocco, you will discover and encounter a very special region of Morocco. Starting in Marrakesh, you will pass through the Atlas Mountains and arrive at the Moroccan part of the Saharan Desert. You will enjoy camel rides, an original Moroccan BBQ, and spend a night under the stars of the world's most spectacular desert.
Learn the histories of Morocco's ancient cities, discover ornate monuments to religious devotion, relax on a sunny beach or savor one of the most diverse cuisines in the world. Morocco offers it all, and more.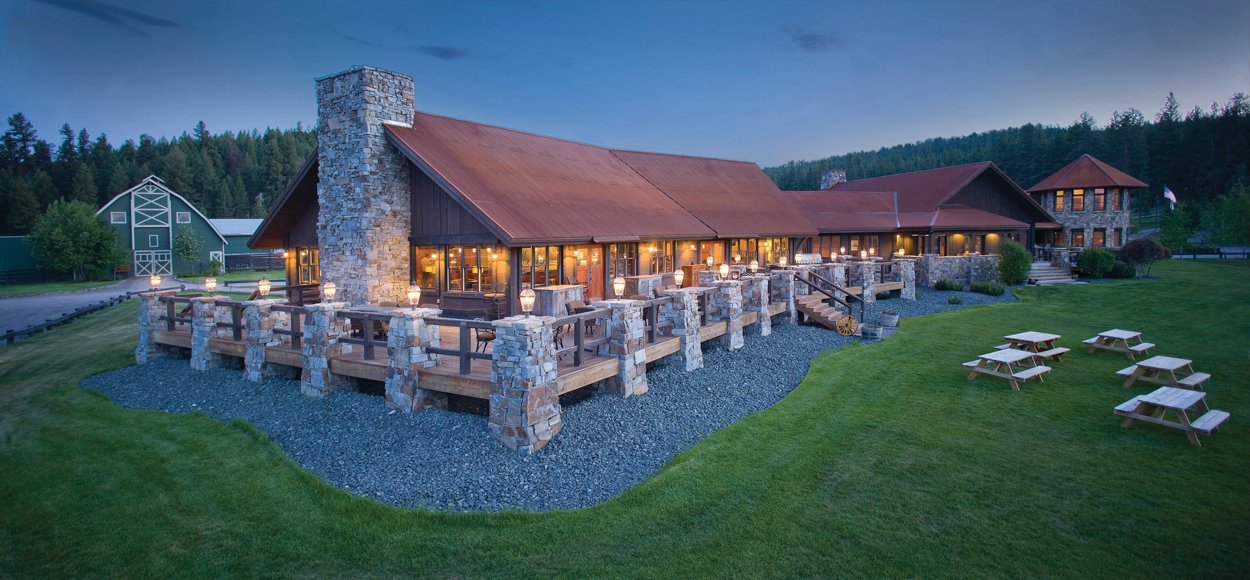 Thanks to truly five-star destinations like The Resort at Paws Up, Montana, an unlikely place perhaps, comes out as a leader for domestic honeymoons. Appealing to newlyweds who want to be as active as they are pampered, these all-inclusive working ranches don't come cheap, but deliver big when it comes to authentic Western adventure and outdoor activities alongside fine cuisine and unmatched service in a breathtaking environment.
Honeymoon Tents: A tub for two and The Last Best Bed®. Need we say more? Pinnacle Camp and Cliffside Camp feature exclusively designed honeymoon tents. Their location, views and plethora of amenities make them wonderful accommodations for honeymoons. The Resort recommends Pinnacle Camp's Tango Point as our most popular honeymoon tent as well as Cliffside Camp's Eagle Cliff. Elk Point in Cliffside has also been booked by honeymooners in the past. Activities like horseback riding and hot air balloon rides as well as gourmet cuisine at your Dining Pavilion will complete your unforgettable celebration.
There's only one thing better than being "one with nature"—being "two with nature." And, there's no better place for two people to celebrate their love than at The Resort at Paws Up, offering the finest Montana honeymoon retreats and honeymoons in the country. They've taken Montana honeymoons to new heights. Their starlight wagon rides, sumptuous spa treatments and gourmet dining will ignite passions and transform flames of love into a raging bonfire.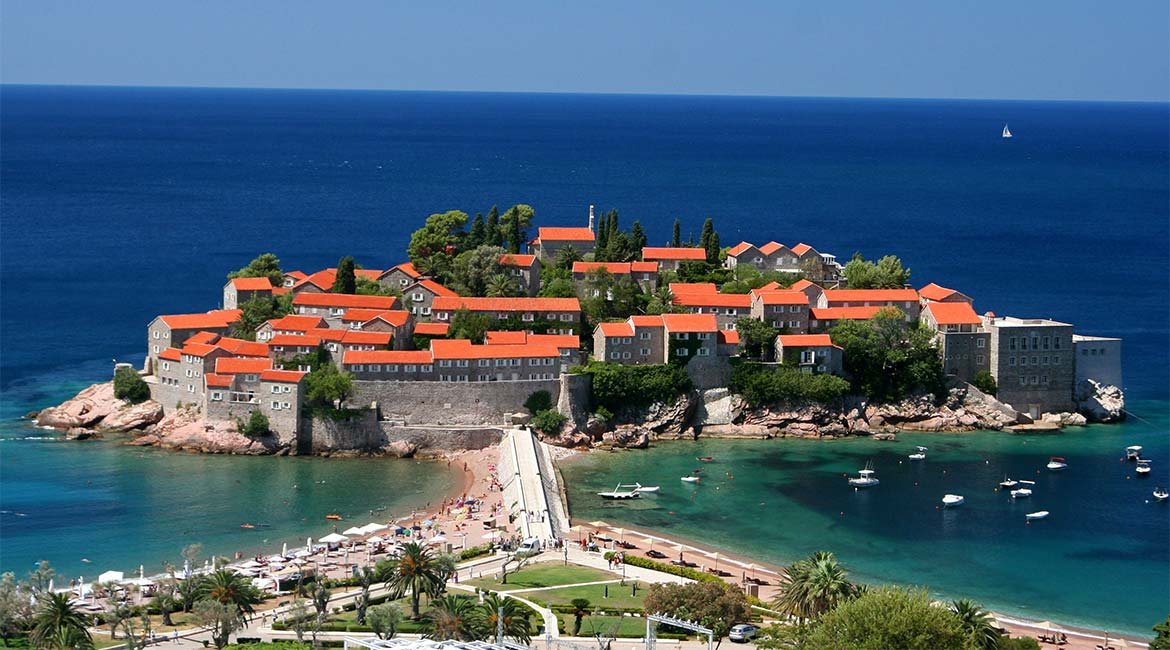 The pearl of the Mediterranean, unique in many ways, Montenegro is situated in the south of the Adriatic sea. Nowhere else you can find so much natural beauty, mild beaches, clear lakes, fast rivers and gorgeous mountains in such a compact area as in Montenegro. Take long morning walks along the beautiful Adriatic coast, have lunch on the banks of Skadar Lake or enjoy an evening hike in the mountains. Montenegro will not leave you indifferent.
Aman Sveti Stefan – Montenegro is the most romantic property along the Adriatic sea. Attached to the coast by a narrow isthmus, this charming seaside hideaway pairs cobbled lanes, shaded courtyards and 600-year-old red-tiled roofs with three pink-sand beaches and the august Villa Milocer on the mainland. A fortified village dating back to the 15th century, Aman Sveti Stefan's Cottages are accessed via stone footpaths and staircases designed to follow the organic contours of the island. Each Room, Cottage and Suite is unique. Explore the historic town of Budva and the UNESCO World Heritage-protected Bay of Kotor by boat or car. Inland, the former royal capital, Cetinje, and baroque city of Perast are jewels set in a rugged, snow-capped landscape.

Cerulean sky and turquoise sea merge at Amanpulo, a whisper-quiet private island retreat in the Philippines. Set on a private island that forms part of the cashew and coconut tree-clad Cuyo Archipelago, Amanpulo is completely encircled by a four-mile (6km) beach. Couples can enjoy diving, private picnics or long walks where they might spot a sea turtle nesting site. Casitas have swinging hammocks and either enjoy sea views or are tucked into the forest canopy. But it's the villas that come with their own private chef, butler and lap pools that offer privacy. At the sea-view spa set high in the trees, opt for a sunset meditation session for two followed by a Hilot massage using banana leaves. Each of the expansive Villas and the 42 beachfront, treetop and hillside Casitas, reflect their island home both inside and out.
Whether it is sailing or scuba diving, windsurfing or simply frolicking in the water, Amanpulo offers an abundance of aquatic activities off the beaches surrounding the Pamalican Island, all available to novices and experts alike. On land, tennis courts and bicycles are complemented by nature walks, which take in the lush indigenous plants as well as the dozens of bird species that make seasonal homes on the island and the nesting sites of green and hawks bill sea turtles. At night, an astronomical refracting telescope helps get up close to the stars.
Located in the southern Caribbean, often referred to as "little Hawaii", St. Lucia looks like it was plucked from the South Pacific and dropped in the Caribbean. You'll find the world-famous Piton Mountains, lush rainforest, a drive-through volcano, and even some black sand beaches.
The bold architectural design – individual bridges leading to exceptional infinity pool sanctuaries and rugged stoned-faced columns reaching towards the sky – makes Jade Mountain Resort one of the Caribbean's most mesmerizing resort experiences. Expect grand sweeping spaces where bedroom, living area and an extravagant private infinity pool glide into one another to form extraordinary platforms floating out into nature. With the fourth wall entirely absent, Jade Mountain's sanctuaries are stage-like settings from which to embrace the full glory of St. Lucia's Pitons World Heritage Site, and of course, the eternal Caribbean Sea.
Romance is just around every corner in St. Lucia. World Travel Awards chose it as the world's best honeymoon destination for 5 consecutive years, and is a special sport for destination weddings as well. Over 30 island properties are ready to arrange the ceremony you've always dreamed of. The dramatic Piton rock formations, lush vegetation, and clear azure waters surround your honeymoon with scenic beauty. You can visit a volcano, bathe in therapeutic hot springs, and practice just about any water sport in just one day of sightseeing. You'll soon discover that this lush tropical paradise was made for two people in love. Celebrate that love with a St. Lucia honeymoon.
Explore all that Thailand has to offer on this diverse trip. You'll adventure through the mountainous regions of Chiang Rai and Chiang Mai, you'll visit the white sand beaches of Phuket and you'll experience Bangkok, the capital of Thailand. With every city you visit, you'll experience the royal palaces, ancient ruins and ornate temples that this country is known for.
Go on the adventure of a lifetime in the wondrous natural surroundings of Northern Thailand, bordering Burma and Laos. Tucked away in the historic Golden Triangle region, Four Seasons Tented Camp Golden Triangle is the perfect escape from the rest of the world. On our unique three- or four-night excursions, you will discover the joys of interacting with rescued elephants in their home habitat, explore spectacular mountain trails and bamboo jungles, and unwind in superb luxury tents. Let the 19th-century explorer's spirit in you come to life – while enjoying our signature hospitality.
Amanpuri is a timeless resort on the west coast of Phuket is in harmony with its idyllic setting. Ancient Ayutthayan architecture informs the design of its pavilions and villas, which overlook lush vegetation and the pristine Andaman Sea.
My Virginia Wedding has partnered with various companies to bring you planning tools to make your wedding as stress-free as possible!
Disclosure: The links above are affiliate links, which means that at no additional cost to you, My Virginia Wedding may earn a commission if you click through and make a purchase. As an Amazon Associate My Virginia Wedding earns from qualifying purchases.