In the age of Pinterest and YouTube, DIY inspiration is everywhere. But should you take on your wedding flowers as a DIY project? Well…maybe.
Flower arranging isn't easy. Realize that florists are highly trained creative professionals and they may make flower arranging look easy, but it isn't. If you have certain must-have flowers that may not be grown locally, rose-covered arbors or large, voluptuous centerpieces in mind, then hire a professional. You will be glad you did.
Are you flexible? If your vision of your wedding flowers is more flexible, a local flower farm can be a great resource. They can give you an estimate of what will be blooming at the time of your wedding (remember that weather is a huge factor in farming so being flexible about your flowers is very important). Many flower farms, like the ones featured below, offer full florist services as well.
Take a class. There are flower arranging courses available at some flower farms and florists-take a course in advance and see if it's something you would enjoy doing. If it is going to make you miserable, hire a professional.
Do both! Consider a hybrid approach-get your bouquet and boutonnières made by a professional and do more casual table centerpieces yourself.
Weigh the cost of your time. Even with help, arranging flowers is time consuming. Will you have time in the days before the wedding to pick up the flowers, arrange them, keep them cool and then transport them to the venue the day of?
Don't forget the details. You will have to provide your own vases (or rent them) and floral supplies; pins, tape, floral wire and ribbon.
Get help. Don't go it alone-gather a group of friends and family to help you-it is much more fun that way!
Harmony Harvest Flower Farm
Harmony Harvest Farm is located in beautiful Weyers Cave, Virginia in the Shenandoah Valley. Surrounded by mountain views, this 20 acre farm (7 of it in flowers) is run by Chris Auville and her two daughters, Stephanie Auville and Jessica Hall.
This gorgeous farm boasts over 200 varieties of flowers. In their wholesale business they supply florists and Whole Foods, but they also ship flowers to brides and have flowers available for farm pickup. Their flower collections are easy to shop on their website. They are divided into 4 color categories; Soft, Essential, Vibrant and Blanc. Brides pick one (or more) and get flowers in season in those color ways. There is also a Quick and Pretty Wedding Package available for local pickup that includes a bouquet and boutonnieres.
Harmony Harvest Farm is also a full service wedding florist. Designer Jessica Hall specializes in " visual experiences that are bursting with the season's best blossoms" .
Facebook followers will be familiar with Harmony Harvest's Friday feature "Live from the Cooler", a fun tour of the farm's flower cooler that allows viewers to see what flowers have been freshly picked.
Harmony Harvest will work with you and your budget to deliver fresh, gorgeous flowers for your wedding, whether that means full service wedding florals, DIY or a combination of both.
Photos courtesy of Harmony Harvest Farm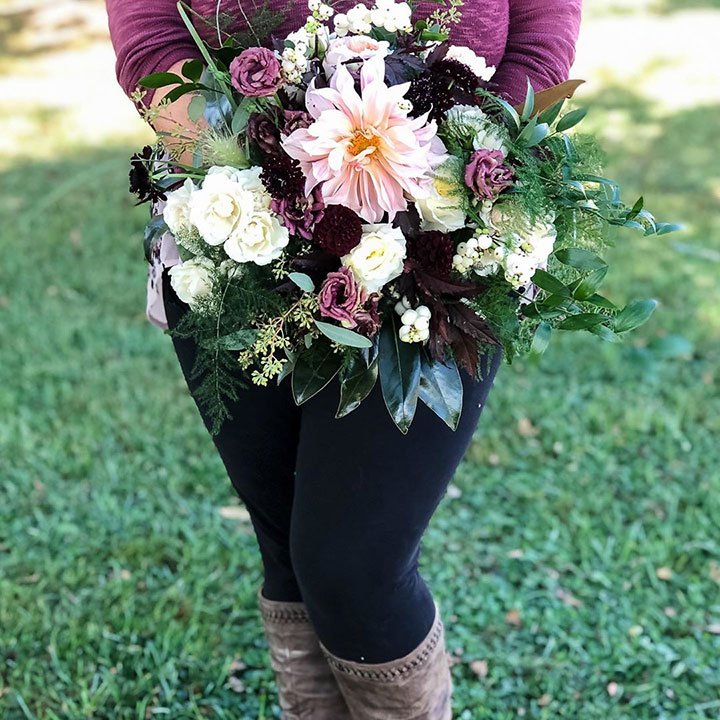 Wollam Gardens Flower Farm
Wollam Gardens is an 11 acre cut flower farm in Jeffersonton, Virginia. It was established in 1988 by Bob Wollam, who still splits his time between the farm and Washington, DC. Cut flowers are the primary focus of the farm, but in recent years they have expanded into a wedding venue, farm stay, festival and events destination.
Wollam Gardens sells their cut flowers to floral designers and at five different farmer's markets, or you can buy them at the farm on Wednesday, Friday and Saturday afternoons when they are getting ready for the markets. They offer custom florals for weddings, special events, and styling or you can buy in bulk for a DIY wedding.
Some of the most popular flowers for weddings are tulips, peonies, dahlias and hydrangeas, and Wollam Gardens grows all of these, but they also grow over a hundred more flower varieties and offer greenery from the shrubs and trees on the property. Flowers start in March and go until frost, at which point they switch to Christmas greens before getting some much needed rest until the growing cycle starts again.
A wedding pavilion (built for Bob Wollam's wedding) is the main feature of Wollam Gardens' wedding venue, but, with a tent, they can do events for up to 225 people. When we were there visiting, a former intern turned floral designer was setting up her wedding at the pavilion. The flower installations were gorgeous!
There are many ceremony sites the staff can recommend, or you can pick your own anywhere on the farm.
A renovated farmhouse provides a great place for the wedding party to get ready and has two bedrooms available for overnight stays.
Our recommendation? Get married there and let the staff help you with gorgeous, seasonal flowers!