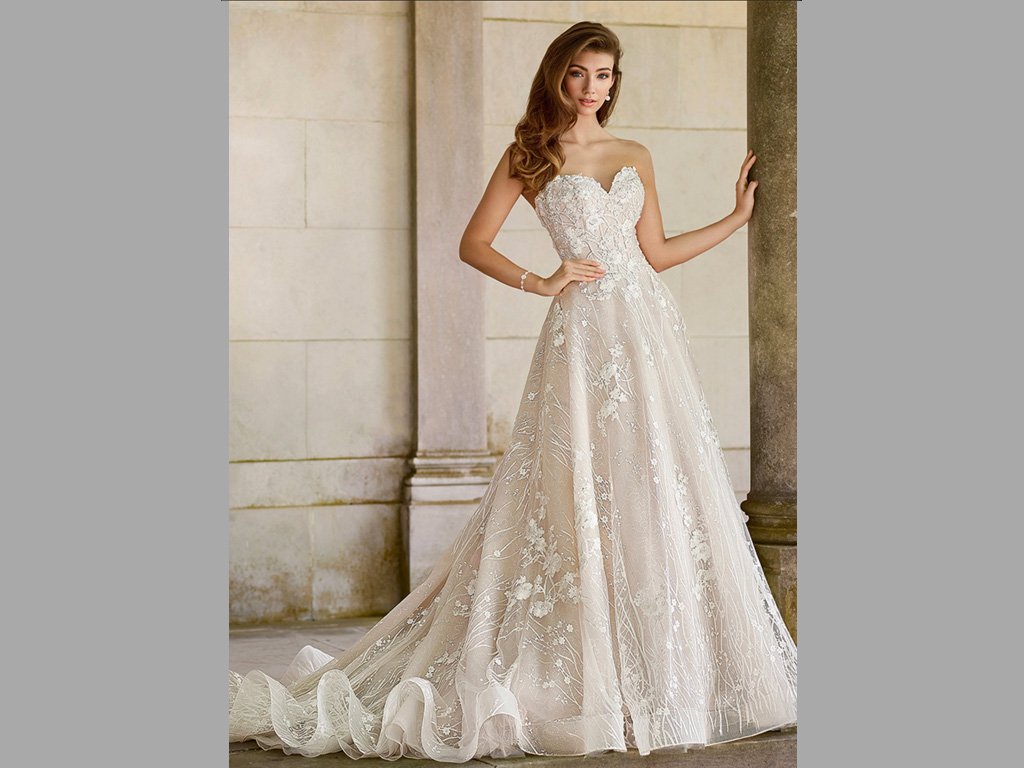 Or How to Choose a Wedding Dress – Without the Stress
Deciding on your wedding dress is arguably the most important decision you'll make as you plan your wedding. The features of the wedding dress are dependent on many things, including the religion and culture of the wedding participants. And there are fashionistas who know, and probably have known for years, exactly what they want. But for the rest of us, there is much more effort involved.
Let's start with what I like to call pre-planning. This is where you gather information on necklines, gown styles, sleeves, trains, fabrics, lengths, veils, colors and what terms are used to describe them. You'll want to determine your body shape and find gown styles that complement you.
Think about your personal style! If you like to be on the cutting edge of trends that's wonderful, but you can also think timeless as well, something you're over the moon about and maybe can be passed down to your daughter or grand-daughter.
I've included a brief summary to get you started!
Wedding Dress Necklines:
The Sweetheart Neckline is very popular because it flatters most of the population. It resembles the top of a heart and accentuates the cleavage.
The Straight or Strapless Neckline is clean and modern and offers more coverage than the Sweetheart.
The V Line or Plunge works for the petite figure as it "lengthens" the torso. The dip can be demure or dramatic (The Plunge!) and may be mirrored in the back and can be paired with sleeves or straps. If you want to go with The Plunge you may want to counter it with an illusion fabric to guard against wardrobe malfunctions.
The Illusion Neckline is tough to describe but consists of sheer fabric that extends from the bodice edge up to the base of the neck. It elongates the upper body without covering up too much.
The Bateau or Boatneck Neckline is flattering for smaller shoulders and skims across the collarbone. It is often accompanied by sleeves. Meghan Markle's wedding dress had this style neckline.
The Scoop Neckline is a gently rounded at the front and lengthens the neck and accentuates the collarbone. It is also a favorite for all body types and is very feminine.
Off the Shoulder Necklines put the focus on the collarbone and shoulders, helping to frame the face and covering a bit of the arms. The covering of the arms differentiates it from strapless.
The Keyhole Neckline is often paired with a halter or high neckline and reveals just a touch of skin while providing coverage.
The Halter Neckline is great for wider shoulders. It cuts in from the sides and often ties or fastens at the back of the neck. Couple it with a backless dress for a stunning effect.
The One Shoulder Neckline is asymmetrical with one strap that gives off that Greek Goddess feeling and helps draw attention to the face.
The High Neckline is similar to a turtleneck (but of course much more elegant!). It can be a good option for brides who want to maintain some modesty but you can use illusion fabric as well.
The Jewel Neckline is rounded and sits higher on the collarbones. It sometimes has sparkly embellishments that make it appear like a necklace, but is fabulous without as well.
The Queen Anne has a high rising collar at the back of the neck then scoops low across the chest.
You can get more info on wedding dress necklines at BHLDN.
Wedding Dress Styles:
The A-Line has a fitted bodice and flows out to the ground. It resembles the outline of an uppercase A.
The Ballgown is also fitted at the bodice but has a waistline that leads to a full skirt.
The Mermaid fits very close to the body from the chest to the knee and then flares out to the hem.
The Sheath has a straight skirt with no waist and follows the contours of the body.
The Trumpet fits closely to the body from chest to mid-hip and the gradually widens to the hem It is often confused with The Mermaid and more.
Visit BHLDN for more information on dress styles.
Wedding Dress Color:
In Western cultures, brides often choose a traditional white wedding dress, made popular by Queen Victoria in the 19th century. But even with white, there are shades: stark white is the crispest and brightest white; natural white (also called diamond white) is the "whitest white"; ivory white is more of an eggshell white and may have yellow undertones; champagne white has gold and pink undertones but will photograph white.
Of course it is YOUR day so you do not have to follow tradition. You can choose from the color spectrum to match your personality, style, décor or season. There is a great article at Brides.com  that gives you many color options – including black!
Planning Time:
You should give yourself 9 to 12 months for this very important part of your wedding. This gives you time to search for the perfect dress, and time for special ordering and alterations. Wondering how this fits into the wedding planning timeline? Visit our 12 month planning checklist for an online or printable planning tool.
By this point you should already have a budget set for the entire wedding, and now it's time to definitively earmark part of that money for your wedding dress. And don't forget that you need to budget for more than just the wedding dress: there is the veil, shoes, lingerie, accessories and alterations. We give you some advice on wedding budgeting in this blog post Do You Need Help Budgeting Your Wedding?.
This can be a time consuming but ultimately tremendously fun process!!
Pick Your Posse:
You shouldn't take more than 3 or 4 people with you as you shop. More than that will just confuse matters and may be a tight fit. Choose friends and/or family that you know well enough that they will tell you their honest opinion. And of course it's important to choose someone whose opinion you value. The obvious choices are your mother, sister, maid/matron of honor or bridesmaids. You could also choose close friends that are not in the wedding. But don't let guilt or tradition dictate who you choose – again, it's your day.
Finding the Dress:
You've got your style, your budget, your posse, now it's time to find the dress!
Find the Salon:
Find one or two bridal salons to visit. You can ask friends or coworkers for referrals. Visit bridal websites. We highly recommend Isabella Grace Bride by Reflections in the Shenandoah Valley. They have private salons so that you and your group can try dresses on comfortably.
Make an Appointment:
Call and make an appointment ahead of time and let them know if you already have style ideas. Also make them aware of any sizing needs you may have. If you can make an appointment during the week, the staff may have more time to be attentive, and the shop may not be as crowded. But you can let the shop guide you on this.
What Do You Bring?
If you plan to wear an updo, then wear a similar style while you are shopping. Wear makeup but keep it to a minimum so that you avoid staining the gowns. Also, take shoes that are a similar heel height to the shoes you are planning to wear on The Day. Wear comfortable undergarments in nude color and strapless so that they won't overpower any gown you try on. If you plan to wear special or heirloom accessories or veil, bring those with you as well so that you can see how they compliment.
At the Boutique:
Expect that the gowns you try on may not be in your size. It is standard practice for bridal salons and boutiques to stock just one or two sizes and then will pin and tuck as you try them on. And fill your stylist in on your personal style and budget as they may be able to make suggestions for you. And now that you have set your budget don't try on anything that is out of your range. This wastes your time, could make less happy with your final choice, or go way out of your budget and overspend.
Don't be afraid to say YES! Even if it's the first dress you've tried on (that is my story!). Or no! If you have tried on a dozen don't let anyone tell you that you need to make a decision. You can continue to look until the perfect dress is found but you need to go with your instincts and not shop forever.
Be certain that you can walk, sit, mingle and dance in the gown you've picked out. Be aware if there are any special undergarments that you will need to purchase and wear.
You Found It!
The perfect dress! But before you make this purchase final be aware of what the salon's return and sizing policies are. And schedule your alterations before you leave the store. Set it up so that it is soon after the dress has arrived.
To Veil or Not to Veil?
Yet another decision. You can go with a traditional veil, it should be the same shade or lighter than your dress. If you're having an outdoor ceremony you may not want a long veil that will blow, or be sure that you can drape it over your arm. You can also consider wearing a hair pin or other hair accessory.
What Now?
Many women wonder what to do with the dress after the ceremony.
1. If you're sentimental or hope to pass it down then keep it. Find a cleaner that specializes in preservation.
2. Donate it.
3. Sell it on our free marketplace.
4. Repurpose it. Have it altered into a less formal cocktail dress and wear it on your first anniversary!
5. Cover your engagement photo with a piece of your veil. See here.
Alternatives
Rather than go with a new gown, is there a family heirloom that you would love to wear? You can have it altered to fit and maybe update the style as well. You could also go with a vintage dress or a previously purchased and/or worn dress. Our free marketplace is a great tool to find new, gently used and vintage wedding gowns.
My Virginia Wedding has partnered with various companies to bring you planning tools to make your wedding as stress-free as possible!
Disclosure: The links above are affiliate links, which means that at no additional cost to you, My Virginia Wedding may earn a commission if you click through and make a purchase. As an Amazon Associate My Virginia Wedding earns from qualifying purchases.