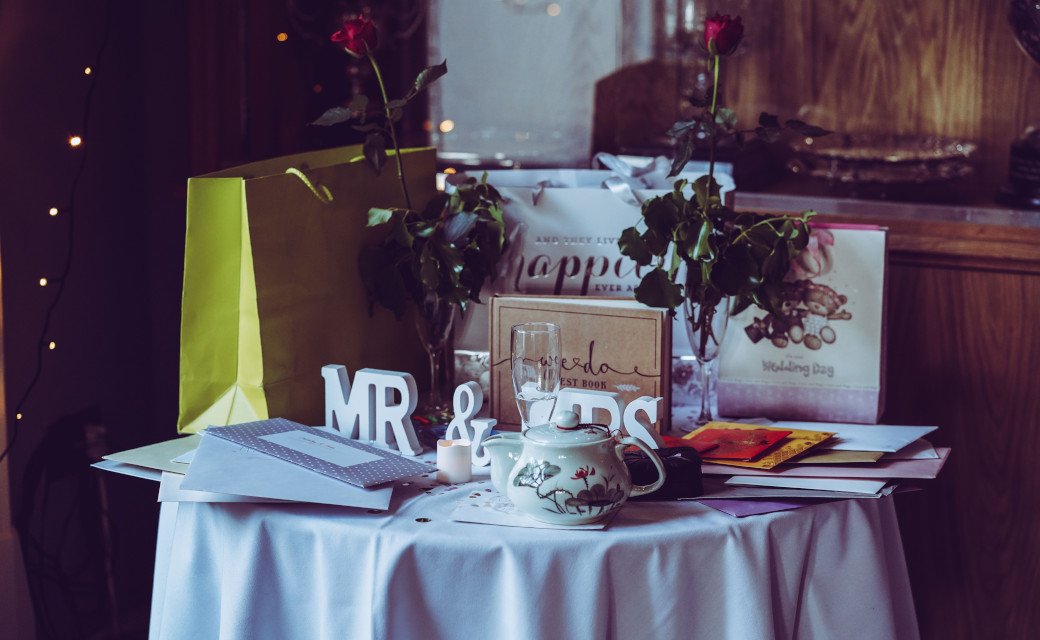 What is a wedding registry? It is simply a way for an engaged couple to pick out gifts that they would like  to receive on their wedding day. It's a wish list ya'll!
The first wedding registry was promoted by Marshall Fields Department Stores in 1924. (You know it today as Macy's!) It was intended to allow the bride and groom to select their china, silver and crystal patterns.  Fast forward to now and you can find registries in practically every category: from the traditional housewares, to more modern items like electronics, books, music, artwork and even the honeymoon.
Is It Tacky?
In a word: NO. There was a time where a wedding registry was frowned upon in certain circles. But in today's busy society we need all the help we can get. And since people want to give a gift that will be cherished or used, a wedding registry is a way for your guests to save time and be able to give a gift they know you will love.
When to Register?
It's fine to register as soon as you get engaged. Traditional etiquette says to register within three weeks, with at least a few gifts. This can help guests who may like to make a purchase for any pre-wedding activities (engagement party, shower, etc)
Where to Register?
Talk to your partner and decide what is most important to both of you. If you have very different ideas on the perfect gift then select 2 or more registries that cater to both of you.  Also, registering with more than one merchant gives your guests more flexibility in their choice. You should also have at least one registry option that has a brick and mortar store, in case some of your guests prefer not to purchase online or wait until the last minute.
You can also consider having one registry with your kooky or non-traditional gifts for your close friends and family, and another, more traditional, registry for the rest of your guests.
What if you've been living with your partner and you have all the household items you need? Consider registering your honeymoon and allowing your guests to chip is as their gift. Honeyfund's honeymoon registry is a easy to use honeymoon registry site. Some couples opt to ask for gifts to charity instead of taking all the loot for themselves. Prince Harry and Meghan Markle have made this very trendy.
This article from Martha Stewart Weddings gives you some background and charitable links. Another lovely idea is to give your Wedding Gift to another couple that is in vital need at heifer.org. Do you like artwork? Register at Ugallery for the art of your dreams!
How to Register?
Each store will have a different policy. Gone are the days where you went through a store with a scan gun, adding things frantically to the list. Ya'll don't even know what I'm talking about do you? HA!
Now you can probably sit comfortably in your own chair and select your items online.  But make sure you are aware of the store's policies.
Do they keep the list updated and remove items as they are purchased?
Do they have multiple shipping options?
What is the return policy?
How long can you have your registry open?
Can multiple guests share the cost (like crowdsourcing)?
Be sure of how your guests can purchase – online, by phone, at a store
Take an inventory of things you have and make a list of things you need. This will make the selection process easier, and more than likely reduce the need to return.
Registry Etiquette?
Yes, even today there is still etiquette to consider.
When you are selecting your gifts, be sure that you select multiple items that are in a very reasonable price range, say $25 or under. Don't fill your list with the most expensive items. This will not work out the way you think it will. And if you tend toward the non-traditional, select a few gifts that are more main stream – for the more – ahem – traditional guests.
Select at least twice as many gifts as your guest list. This gives everyone multiple options and allows for gift purchases for your engagement party and shower.
You or your partner should not tell people where you are registered or list it in the invitations or save the date cards. You should use surrogates like family members or the bridal party. And it is perfectly acceptable to provide a link on your personal wed-site or wedding newsletter.  With Appy Couple you can create a gorgeous wedding website and wedding app. You can choose from over 500 styles to complement your wedding theme and be up and running in minutes. You can also create your free wedding website at eWedding.com or use Minted.com to build your Wed Site and match it to your invitations.
Periodically add items to your registry to keep it fresh. This is especially important as your wedding day approaches and the gift buying frenzy ensues!
Are Thank You Cards Still Necessary?
Yes. Yes. Yes!! Thank you cards are necessary, they are polite, and they show your gratitude. Thank you cards for gifts before the wedding should be sent within two weeks. Wedding Day gift thank you should be sent within three months. Stay organized with a master list of gifts received and from whom, and keep the stationary at the ready. Minted also has a wide selection of Wedding Stationary and Invitations. KKs Printing and Stationery is also a wonderful full service printer, where you can see and feel samples.
You can visit our article on Thank You Note How-To for inspirational tips on how to stay organized, synonyms for words and even some quotes to include.
My Virginia Wedding has partnered with various companies to bring you planning tools to make your wedding as stress-free as possible!
Disclosure: The links above are affiliate links, which means that at no additional cost to you, My Virginia Wedding may earn a commission if you click through and make a purchase. As an Amazon Associate My Virginia Wedding earns from qualifying purchases.