Destination Orange Events: Red White Bleu & Brew
Red White Bleu & Brew is a gourmet shop and neighborhood café. Michael Scruggs opened the business as a retail gourmet wine, beer and cheese shop in 2017 in Locust Grove, a community in beautiful Orange County Virginia. After a year they expanded with a 50 seat full service restaurant due to overwhelming demand from the community.
Location, Location, Location
Located on Route 3 they are easily accessible to Fredricksburg, Orange County, and Culpeper County. They have three bakers on staff to prepare a sundry array of cheesecakes, scones, quiches, baclava and cakes. In addition, they have four chefs including Chef Paul McHenry and Executive Chef Liam LaCivita. Red White Bleu & Brew is active in their community and takes pride in working with and giving back to the local community and using locally sourced food and beer offerings.
Intimate Rehearsal or Parties
RWB&B would be a fun, intimate setting for a rehearsal dinner and can accommodate up to 50 guests. RWB&B is also available for rent for Bachelor or Bachelorette parties, with a bit of notice. With 20 tap offerings, bottled beer and 120 different wines, they have something for everyone.
Other Wedding Services
RWB&B can also provide numerous other wedding services. Michael Scruggs is an active partner in the business and with his 27 years in the hospitality industry he is familiar with the unique requirements of the wedding celebrations.
They have provided beverages in the form of beer and wine throughout Virginia. They can also supply all-inclusive Bar Services with an ABC license and including bartender(s) and staff if needed as well as catering services. With Scruggs' multi-faceted background, you could also contract DJ or an 80s Cover Band for entertainment as well as planning services. They are happy to provide bundled pricing for any and all of their services for your wedding (or corporate event).
They Care
Red White Bleu & Brew is an eclectic blend of community pub, intimate event space and many reception services. When I spoke to Michael Scruggs it was obvious that this is a labor of love, that he really cares about and likes to serve his customers. He told me that he turned his back on his former high paying career and finds the affirmation of his neighbors, who he considers his guests, to be worth so much more.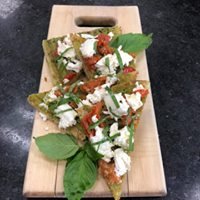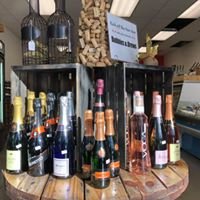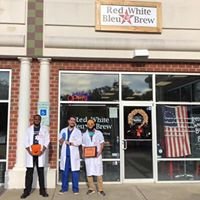 My Virginia Wedding has partnered with various companies to bring you planning tools to make your wedding as stress-free as possible!
Disclosure: The links above are affiliate links, which means that at no additional cost to you, My Virginia Wedding may earn a commission if you click through and make a purchase. As an Amazon Associate My Virginia Wedding earns from qualifying purchases.