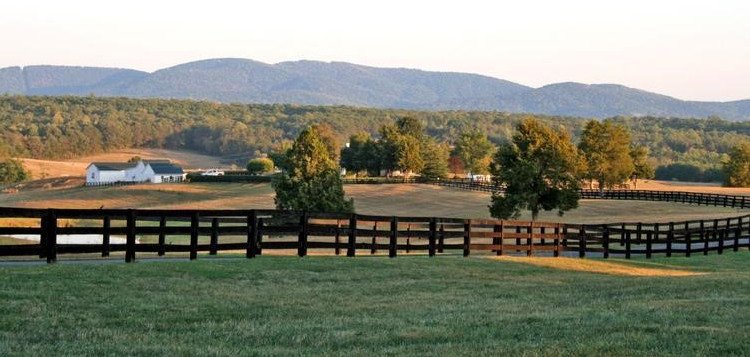 Orange County Virginia is located in the Central Piedmont region of the Commonwealth of Virginia. Its history is rich: two US Presidents have called it home; there are ruins of a Thomas Jefferson designed Governor's mansion; there are two Civil War battlefields; and at its formation in 1734 the western boundary went all the way to the Mississippi River. Some will contend that Orange County was at one time was the largest county that ever existed.
But now Orange County is just 343 square miles with bodies of water including the Rapidan River; Lake Orange, a 500 acre lake at Lake of the Woods; and shoreline on Lake Anna.
With 34 sites on the National Register of Historic Places, this rural county provides an abundance of historic venues and accommodations with beautiful views and amenities. And with portions of Orange County within the Monticello Viticulture Area and part of the Monticello Wine Trail and there are many vineyards and wineries, from boutique to award winning. And, yes, there are breweries as well!
Various recreational activities including canoeing, hiking, fishing, skydiving, paintball, theaters, golf, horseback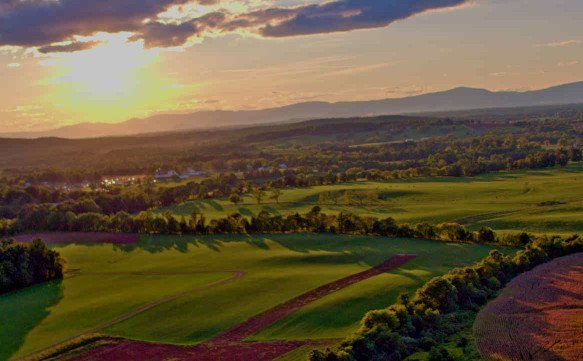 riding and shopping in the quaint and historic downtowns of Gordonsville and Orange. And, of course, with its history there are plenty of museums and historic sites to visit.
The history, the beauty, the recreational opportunities and the southern hospitality makes Orange County Virginia a premier wedding destination.
We've compiled a very incomplete list of wedding professionals in Orange County which you can read below. There are so many fine venues, florists, caterers etc we could not include them all. But we hope to continue to add new vendors, so check back!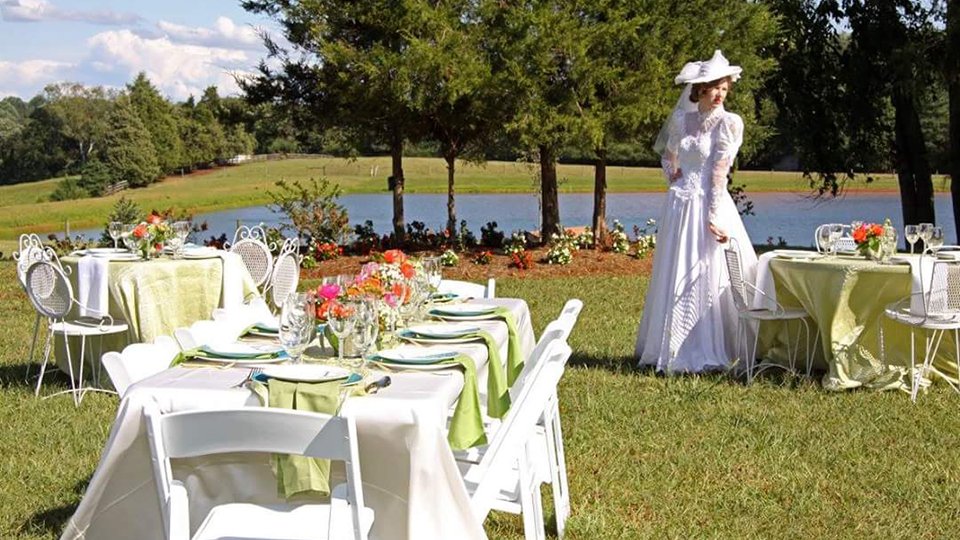 The Pavilion on Lakeland Farm
The Pavilion on Lakeland Farm is Southern Charm personified. It has an stately manor house exterior with a modern design inside. There are lovely locations on site for your ceremony and the manor house can easily accommodate up to 200 guests for your wedding reception. Features include a warming kitchen, a built in bar area and plenty of room for seating guests, a band and dancing.
Rounton Farm
Rounton Farm is a gorgeous working family farm located outside of the town of Orange, Virginia. When Ellen and Rob Pitera took over the management of the farm from her parents, they were looking for ways that the farm could support itself and grow in the future.  Capitalizing on the beauty of their farm and the growing wedding industry in the region, they decided to turn their original barn into a wedding and event venue.
Honah Lee Vineyard
Although Honah Lee Vineyards is relatively new as a Wedding Venue they've been a family owned vineyard for many years. They seem to have a deep understanding of the amenities couples need for their ceremony and reception and strive to provide that perfect day.
There are many photo opportunities at this venue and there is a gazebo where you can exchange vows. Then the outdoor reception area is a just a few steps away outfitted with a pad, tent, electricity and more…
Uphill House BnB
If you're having a smaller ceremony Uphill House is a perfect choice with two wedding packages as well as an elopement package. The acreage, lawn and gardens makes this venue a great choice for a small, intimate, destination wedding. The ability to rent the whole house is definitely a plus!
Their busy season is April through June and again from September to the end of November due to the beautiful fall foliage in Virginia.
Mayhurst Inn
If you want history and charm for your wedding, Mayhurst Inn in Orange, Virginia is an excellent choice. The restored 1859 plantation home has multiple ceremony sites to choose from; a boxwood arch, an elegant front porch or a 200 year old Ash tree by the pond. With 37 beautiful acres, manicured lawns and lovely gardens, Mayhurst is a picturesque setting for any wedding. There is ample room for a tent with reception areas large enough for 300 people. The Inn has 8 large guest rooms for you and your bridal party, including a luxurious Italian Suite with a fireplace, a 2-person Jacuzzi tub and a private balcony.
The Inn at Willow Grove
The Washington Post recently called the Inn at Willow Grove "the most romantic place I've ever stayed" and you can easily see why. The beautifully restored 1770 plantation home is the centerpiece of the estate, but the elegant venue boasts many different options for wedding ceremonies and receptions. The Boxwood Garden is ideally suited to outdoor wedding ceremonies. The Hall, with it's French doors on all sides, is perfect for smaller weddings of about 50 people. The Barn and Ruins offer a huge 6400 square feet of indoor and outdoor entertaining space. Combine any of these choices with Willow Grove's onsite gourmet farm-to-table cuisine and beverage service, a new spa and lovely rooms at the Inn, and you have everything you could want for a spectacular destination wedding-all in one place!
Holladay House Bed and Breakfast
Holladay House Bed and Breakfast is the perfect venue for small (less than 20 guests) weddings or elopements. This historic landmark in the Federal style is located in the town of Orange, just two blocks from the County Courthouse (in case you need a marriage license!). It has been featured in Inns Magazine as one of the Top 10 Inns for a small wedding or elopement as well as featured in USA Today as one of the Top 100 Places in the US for all-inclusive wedding elopement.
They will host elopements every day of the week and have two wedding packages. The packages include your room, an officiant, a bottle of wine (sparkling, red/white/rose, or non-alcoholic), a bouquet and boutonniere, use of their photo props and a full gourmet breakfast the next morning. One package also includes a wedding cake, non-professional photographs of the ceremony and a candlelight whirlpool bath. Sounds heavenly! The number of witnesses/guests depends upon the package you select.
You can also opt for an intimate ceremony with up to 20 guests. For an extra fee they will even act as a wedding planner. They are able to recommend an officiant, photographer, musician, caterer, salon and florist from the area.
What a wonderful, stress free way to begin your life together.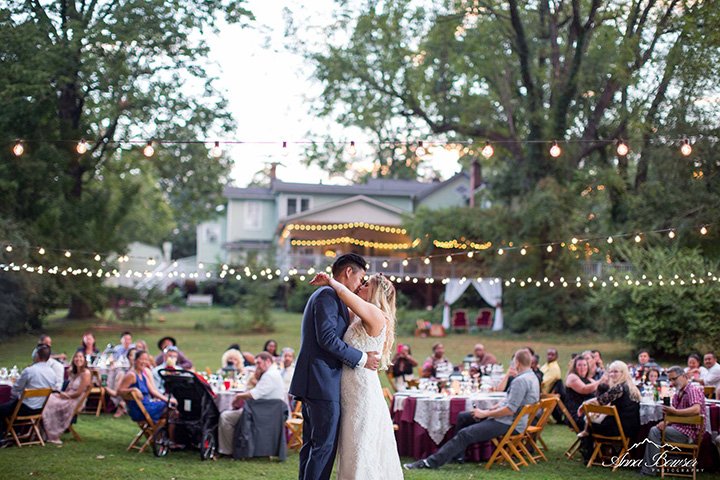 Greenock Manor
Greenock Manor was built in 1870 as a private residence and is now a bed and breakfast, event, conference, and wedding venue. The restored Victorian manor house sleeps 14 and is surrounded by 5 acres of forest gardens. Greenock offers 6 different wedding packages, from an elopement package to an all inclusive weekend package-with many options in-between. They can even host the rehearsal dinner! There are a variety of ceremony sites on the property including a gazebo. A large deck under roof is perfect in case of rain. The Manor supplies banquet tables and chairs and has many decor items available for use. A beautiful venue with an option for everyone!
Madison at the Mill
If you have envisioned a modern, industrial style for your wedding, look no further than Madison at the Mill, a wedding venue in the town of Orange, Virginia. The fully restored historic building was once the American Silk Mill Factory, where for years they produced silk and parachute material. Madison at the Mill has over 7000 feet of customizable space for you to make your wedding unforgettable. Original hardwood floors, high ceilings, 2 bars and granite covered bathrooms are just a few amenties in this incredible space. They have also added Madison on the Hill, a brand new outdoor event space with expansive mountain views, a tent for your reception and ample parking. So indoors or out, Madison at the Mill has your wedding covered!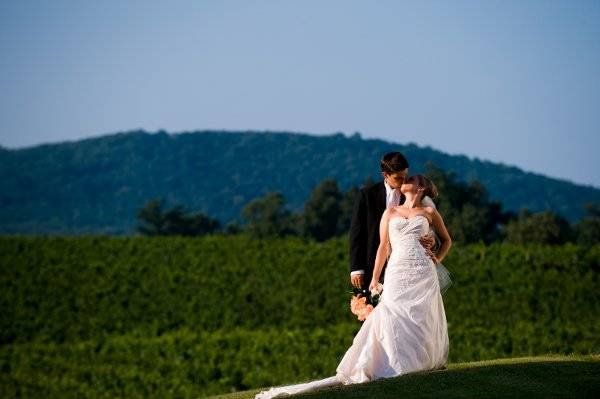 Barboursville Vineyard
Barboursville Vineyards is a lovely venue just north of Charlottesville, Virginia. They have created an atmosphere where both Italian and regional American design elements where you and your guests have an elegant yet comfortable space.
There are nearly 900 acres of vineyards and walking trails, as well as historic accommodations at the luxurious 1804 Inn and Cottages. There are commanding views of the vineyard, the Ruins of the James Barbour mansion and the beautiful Blue Ridge Mountains from various spaces and the staff is ready to assist you in each element of your wedding day, from florists to linens, photographers to lighting specialists. You can have from 24 to 300 guests and they also have historic accommodations on site.
Inn on Poplar Hill
With 28 beautiful acres, the Inn on Poplar Hill in the town of Orange, Virginia can accommodate weddings of up to 200 guests. There are multiple ceremony sites including an ancient Tulip Poplar tree, a koi pond and an iron gazebo. Wedding packages are for the weekend (so plan to have your rehearsal dinner here as well) and include accommodations for up to 10 guests for 2 nights, a full breakfast each morning, exclusive use of the common rooms and a wildflower meadow for cut flower arrangements. Weekend activities could include walks on the Inn's 2 miles of trails, fishing in the stocked pond or going to area wineries.
For your big event, the Inn can provide a list of local vendors, including caterers and rentals, or you can choose your own. This is a really great wedding package!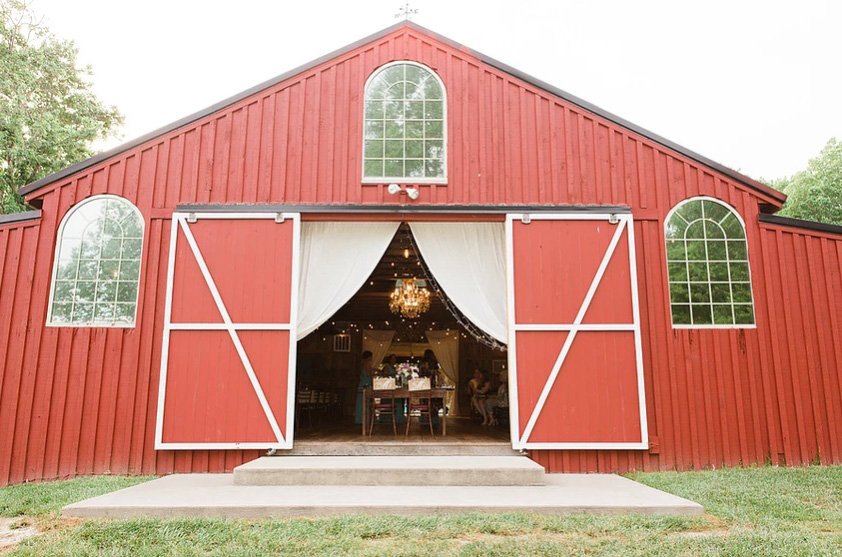 Oak Creek Farm
If you are looking for a real farm wedding, Oak Creek Farm in Unionville, Virginia has everything you need (including cows!) This working farm renovated one of their barns in 2015, turning it into a gorgeous wedding venue. Festivities begin on Friday with the barn available for decorating, a rehearsal and a rehearsal dinner. Oak Creek Farm provides a cottage for the wedding party to get ready on Saturday, and supplies an onsite wedding coordinator to make sure your day runs smoothly. The farm has many decor items available such as a restored buckboard wagon and wine barrels plus corn hole, bocce ball and horseshoes for lawn games. There are many charming locations for photos-surrounded by friendly cows in a pasture or with a rustic barn as a backdrop. This farm has it all!
Wolftrap Farm
With accommodations for up to 60 people available, Wolftrap Farm in Gordonsville, Virginia is a great choice for a destination wedding. The original Cox Mill Pavilion is a renovated equipment barn with a rustic indoor/outdoor space for your wedding. This venue was so successful that Wolftrap Farm added the Black Meadow Pavilion, a building which has all the great features of Cox Mill but with gorgeous mountain views. Inside, Cox Mill can seat up to 150 (Black Meadow can seat 180) with room for an additional 45 on the deck. There is lots of room for extra tents if needed. Climate-controlled restrooms, a warming kitchen for caterers, a generous dance floor, multiple lighting options and a spacious changing room are just some of the amenities provided with the wedding packages. A great choice for a country wedding!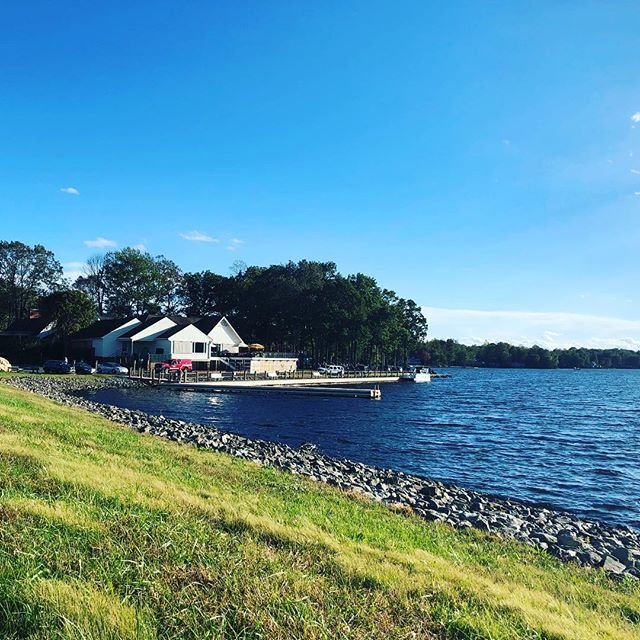 Lake of the Woods Clubhouse
Lake of the Woods is a private, planned residential community conveniently located between Washington, D.C., and Richmond, and 26 miles northeast of the town of Orange. Civil War battlefields and other historic sites are in the vicinity. You do not have to be a resident to have your wedding at this beautiful lakeside venue.
Imagine your ceremony on "The Point" or the Clubhouse Beach next to this impressive 500 acre lake. After the ceremony, your guests can enjoy cocktail hour on the patio with a view of the lake, followed by your reception in the Great Hall of the Clubhouse, which can accommodate up to 200 guests.
Your package includes up to 5 hours on the day of your wedding and a rehearsal the the night before. For your convenience there are rooms available for the bride, groom and their attendants to prepare. You can reduce planning time and have the wedding catered by The Clubhouse and use their preferred vendor list, but you are not obligated.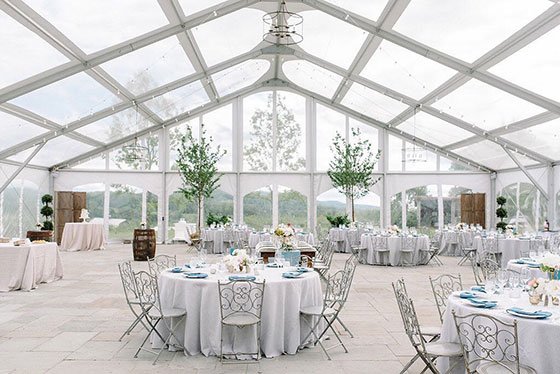 The Market at Grelen
The Market at Grelen has become one of Orange County's most popular wedding venues for many reasons. Located in the heart of Orange County in Somerset, Virginia, Grelen Nursery was founded in 1990 and has grown over the years to 600 acres. The wedding venue offers plenty of space, great views (including a location at the top of the nursery for sunset photos), a professional staff and a variety of ceremony, cocktail reception and reception options. The 4500 sq ft Orchard Overlook Tent can accommodate up to 300 guests.
Jaclyn Rae Photography
Jaclyn Rae (Jackie) is a super-talented photographer located in Orange, Virginia. She loves photographing weddings–for her it is the "…pure joy in catching the moments of the day that are expected and unexpected." Our featured photo is an example of her great work! She also does wonderful portraits of families and children. 
Colonial Florist and Antiques
Colonial Florist & Antiques is located in historic Gordonsville, Virginia. They specialize in wedding designs and will work with you to make it personal and your style. They do completely custom designed arrangements including bouquets, hair florals, boutonniere's, corsages, and of course florals for your ceremony, reception and even the cake. They have over 40 years of experience and they are willing to provide endless consultations. They even do rentals.
Lacy's Florist & Flower Cottage
This florist has two locations: one on Main Street in the Town of Orange and one at Locust Grove, making them conveniently located to most venues in Orange. They will do a free consultation with you and work with you to design the floral arrangements that are just perfect for your special day.
Lacy's will custom design bouquets and arrangements for the ceremony and the reception. Their designers are highly trained and willing to go that extra mile. And, BONUS, they have an extensive collection of men's formal wear for rent. The men in your party can go to one of their locations to be fitted and pick the style from the wide selection.
Central Virginia Wine Tours & Transportation
Perfect for Bachelor/Bachelorette Parties or transportation for the bridal party and/or guest shuttles on your wedding day, Central Virginia Wine Tours & Transportation does not disappoint. They have a personal touch and will work with you on pickup, your itinerary and the length of the  excursion. They know the area sights including wineries and breweries. And don't forget, you may have special guests flying in from out of town. Central Virginia Wine Tours & Transportation is happy to do Airport Shuttles.
Beggars Banquet Rentals
With experience in catering, Beggars Banquet has a unique insight into tabletop rentals and style. They can easily put together a table in the showroom during your consultation. They like to talk to you personally, because every detail is important and they can help guide you through the many options.
JB Cakes, Sweets and Treats
Jennifer Bryington turned her baking hobby into a business about three years ago and has been busy ever since. So busy, in fact, that she is moving JB Cakes, Sweets and Treats out of her state inspected home kitchen and into a storefront in Rhoadesville, Virginia. One of the best parts of her job? Creating lasting relationships with her clients and becoming their baker for all occasions, so she can do their wedding cake, then a baby shower cake, then birthday and anniversary cakes!
Bryington travels all over to set up and can do cutting cakes, cupcakes and up to 6 tiered wedding cakes. There are so many flavors, fillings and icings to choose from! For the cake-besides the standard flavors of chocolate, vanilla, butter, lemon, red velvet, carrot, coconut, and white almond there are also specialty flavors such as pumpkin, apple, spice, chocolate mint, chocolate bourbon, orange, and lavender. For the filling-buttercream (in almost any flavor you can think of!), fruit compote, curd, chocolate fudge, cheesecake, mousse, Bavarian cream, coconut, fresh fruit or pecan pie. For the icing- buttercream, flavored buttercream, ganache or fondant. Whatever your favorite flavor combo, JB Cakes, Sweets and Treats has you covered.
Clearwater Fire Grill
Clearwater Fire Grill in Locust Grove, Virginia is the epitome of home-town hospitality. They have a restaurant with a full-service menu but they also cater special events, including your wedding! Their location makes catering an event in Orange, Culpeper, Madison or Spotsylvania convenient. But they go outside of that zone as well.
I recently spoke with the owner, Lenny Schafer, and his enthusiasm for catering special events was front and center. They actually send two teams on site, if necessary, so that the main course is not wrapped up and warming while the hors d'oeuvres are being served. Above and beyond!
Roadside Chive
If you look at any area venue's preferred vendor list, you will find Roadside Chive on it- and with good reason. Their motto is "We Do Everything!" They are a a full service licensed and insured catering and event planning company and will take care of your special day, big or small, with creativity, professionalism, and a personal touch.
But let's talk about the food! Roadside Chive will work with you on any menu you have in mind, and can source local meats, cheeses, produce, beer, wine and liquor. A sample buffet menu might include bourbon and brown sugar marinated pork tenderloins with roasted tomato, scallion and bacon relish. Hors d'oeuvres could be Brie boule with cranberries, brandy, brown sugar and walnuts, a sherried crab dip with baguette toasts or mini sweet potato biscuits with Kite's ham. Delicious!
Exchange Events & Catering
Exchange Events & Catering has more than 20 years of experience in events including fine dining receptions. During your consultations, you will discuss your theme with the Exchange Events & Catering and your menu will be customized to reflect your style.
You can schedule a tasting to sample their elegant fare. They have chefs with backgrounds in Italian, French and Asian cuisines, so they will be able to please your palate. Their specialty is southern cuisine and seasonality as they work with local farms, breweries, distilleries and wineries for true farm-to-table dining.
In addition to appetizers and seated or buffet service catering, the Exchange Events & Catering can provide beverage service, including bartenders and captains. They only do 60 to 70 weddings per year which allows them to give each one individual attention. They are willing to cater weddings on any day of the week and will travel within an hour or so of Charlottesville, Virginia.
Med Spa of Virginia Total Wellness Center
Med Spa of Virginia provides the usual: hair, makeup, manicures and pedicures for the Bride and Bridal Party the day of the big event. They have a specialist on staff to just do makeup and carry a wonderful line of cosmetics. But that also can provide that extra service or two that a bride may need. Nutritional support, yoga or massage for stress relief. And of course you could do a bachelorette party there!
Red White Bleu & Brew
This adorable cafe, brewhouse and wineshop has an owner and staff that are so talented we had to make a new category! They are able to provide alcohol and bar services, wedding planning, DJ services and even and 80s Rock Band. You can also rent the cafe for engagement, bachelorette or bachelor parties or a rehearsal dinner. It's like a one stop shop!